In 1965, San Francisco Beautiful successfully circulated a petition to halt the proposed replacement of the ornate light standards in the triangle bordered by Market, Sutter, and Mason Streets, first installed following the 1915 Panama-Pacific International Exposition, with more modern sodium-vapor lamps (decades later, these Golden Triangle lights would be declared a city landmark in 2003). 
The group was also heavily involved in making sure the streetlights along Market Street from the Ferry Building to Seventh Street, known as the "Path of Gold," were restored and replaced after the construction of the Bay Area Rapid Transit (BART) tunnel in 1970. A legacy of the City Beautiful movement, the 327 light standards that make up this path of gold had been designed by Willis Polk in 1908, and the decorative Carrara-style glass globes that adorn them created by Leo Lentelli and Walter d'Arcy Ryan in 1916.
Advocating for a Comprehensive Plan
San Francisco Beautiful advocates preparation of a comprehensive street lighting and outdoor lighting plan based on the following conditions:
Requiring that the remaining 50 percent of overhead utility wires be undergrounded
Establishing new streetlight pole height standards;
Criteria for lamp fixture choice
Adopting lamp technology, color rendering and light spectrum criteria
Reevaluating light level standard
Establishing ongoing streetlight planning
Reconsidering nighttime safety criteria
The Fight to Save Van Ness Avenue Historic Street Lamps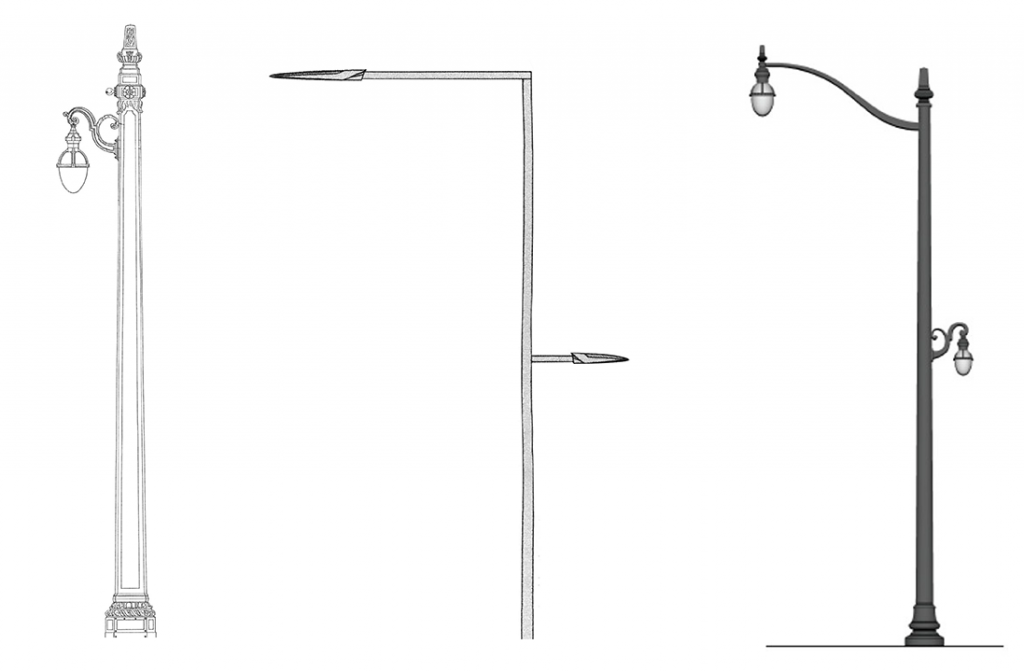 A comparison between the lamps as they were on Van Ness (left), the lamps that SFMTA wanted to use (center) and the lamps we fought to have that retained the typical character of SF (right).